With the community centre in a time of enforced rest, it seemed the ideal time, if safe, for the next 'stage' of renovation to take place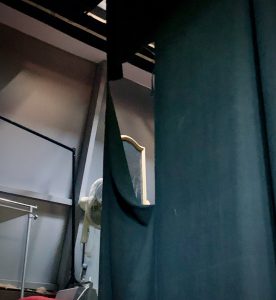 The curtains are old, dilapidated and, as the image bears witness, falling into holes! The black curtains will be replaced with a thicker, more substantial material and will allow passage behind for the cast without the knowledge of the audience.
New flooring will be fitted an secured and could possibly be suitable for dance too. There will be better stage lighting in the wings for both safety and preparation during acts or exhibitions. The overhead lighting will be renewed as will the spot lights, to a more modern, economical option.
The present front curtains are hung rather close to the front of the stage. Whilst there have not been any accidents as far as we are aware, the new ones will be hung slightly further back from the edge. they will also be a rather lovely claret colour, very closely matching the new chairs and in keeping with the general colour scheme of the centre.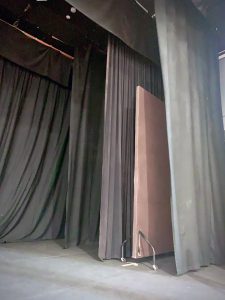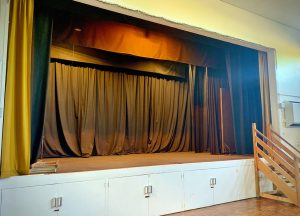 Once we are able to open up for business again, it will  be rather exciting to see what changes have been made.