The final, possibly hardest, decision now needs to be made – what flooring will the stage have?

Our caretaker Chris has been working hard after the initial cleaning each day. He has repaired chairs, touched up paint work and painted the stage frontage a charcoal grey which, I think you'll agree. looks much better. He has also repaired the ill-fitting bolts on the doors.
There are now 2 new LED spotlights for the stage that can be dimmed. There is lighting in the wings on both sides, both blue and white for different levels of brightness. Everything can now be customised to a more user friendly level.
The ambience in the hall is now more versatile, fitting all situations and usage.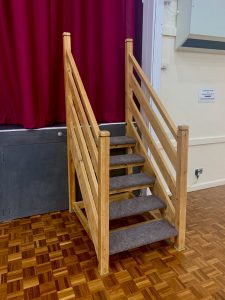 The neighbour of the chairman has very kindly refurbished the stage steps. They have been stripped, sanded and varnished with carpeting fitted to each tread. He has done an excellent job and they are much better. When the flooring is finally fitted on the stage, the small area of raised wood on the edge of the stage will be chiselled flat, thus removing a potential trip hazard.