Wednesday 20th May 2020 saw the completion of most of the stage renovation. The transformation in our opinion is wonderful. It now, not only gives the vibe of a professional theatre, but it also has a comforting, welcoming feel, inviting all to come in, take a seat and be captivated by another wonderful new production for your delectation.


The transformation has been undertaken by Michael and Dan. I managed to snap a shot of Michael but Dan succeeded in evading my camera! 
The current structure was thoroughly dismantled and checked to see if it was still structurally sound and replaced where necessary. Rotten or missing ceiling tiles were replaced and all given a fresh coat of black paint.
All the curtains were removed. The black ones were not of much use, being torn or rotten, but some have been save as dust sheets for used in any decoration of the centre. The front of house curtains were advertised but o one wanted them (they were very heavy and faded) so they had to go in the bin.
The front of house curtains are a lovely claret colour that beautifully matches our new chairs and also matches the décor of the Edna Rose room and the Wilkinson Lounge.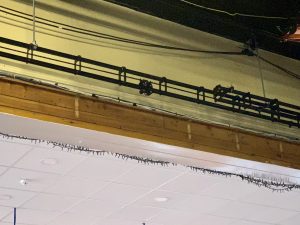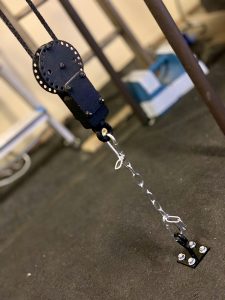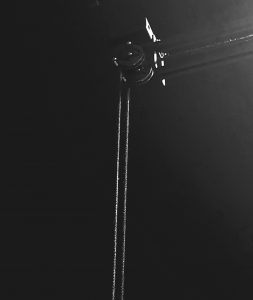 All curtain track was removed and we now have excellent, professional type tracking. the front curtains have been moved back a little from the very front of the stage for safety reasons. Curtains are now drawn via a very easily managed pulley system. 
The black curtains that form the 'black box' are a thick serge type material and of  sufficient weight to allow movement behind without being detected by the audience. It also make them hang much better. There are also swing black curtains that swivel to give a true black box or can be angled to disguise exits and entrances.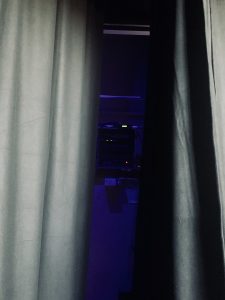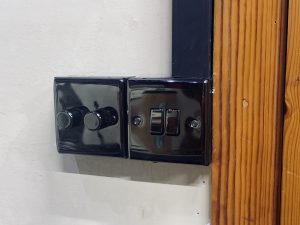 The lighting on the stage has been renewed with some additions in the wings. They were always very dark but there is now 2 levels of lighting, white and even dimmer, blue. Those experiencing the stage lighting previously will have found it a daunting task locating the light switches without encountering some sort of obstacle in the dark. We now have light switches accessible from the top of the steps – bliss! if you yourself on the stage, especially for the Annual Village Quiz, it was rather like an interrogation as the spotlights were blinding. That has now been addressed by the addition of some more cost effective LED lights that are also dimmable.