There's nothing better on a wet, cold stormy day than curling up with a good book and escaping to who knows where.
TARVIN LIBRARY
***STOP PRESS***  You can now get a book and a Brownie at library time. Coffee and cake will be available in the community centre whilst the mobile library is present.
One of the important facilities provided by Tarvin Community Centre, the Library, was scuppered by dear old Covid when Cheshire West deemed it unsafe to continue despite all the measures in place at the centre.
Well now there is to be the return of a library but slightly different to normal. It will be a mobile library which can be maintained to necessary standards and safe for people once again to borrow books.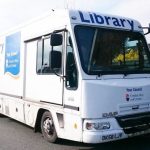 From Monday 12th October the phased re-opening of library services will continue. It is currently not possible to operate the usual service safely at Tarvin library.
As a temporary arrangement, our mobile library service will now visit Tarvin Community Centre car park every Thursday from 2pm-4pm. You will be able to board the mobile library one household at a time, to return and borrow items. Test and Trace data will be collected on the mobile library and face coverings should be worn.
From 12 October all books will be issued for the normal three week loan period and will be due for return from 2 November. Overdue charges will be re-instated from 2 November. You can check the return date on your items by logging in to your account Here.

There is plenty of parking around the building.