Chicago Swing Katz featuring Paul Sawtell on piano – From New Orleans to Swing. Happy 'good-time' music.
Saturday April 2nd 19:30 Doors open 19:00 £12.50 each
If you like band music in the swing/jazz style and you like dancing, then put this date in your diary – Saturday April 2nd. You are invited to enjoy the music of the Chicago Swing Katz and their guest, jazz pianist Paul Sawtell. With their musical roots firmly embedded in the era of great British bands like Kenny Ball, Chris Barber and Acker Bilk, these seasoned musician will make the evening swing. The bar will be open and there will be space to dance should you feel the desire.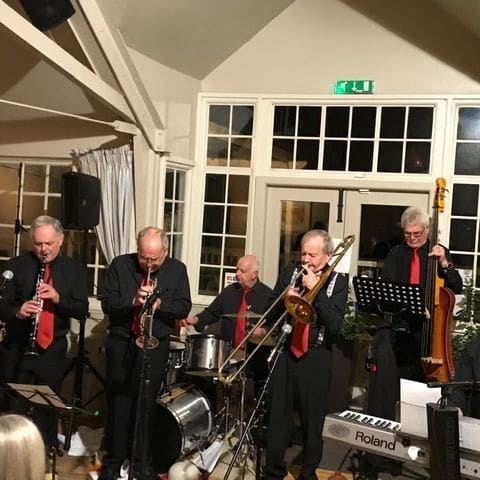 The Chicago Swing Katz were brought together by Mike Carnie, a new local resident. Mike, who is the drummer has many years experience playing in bands. They love playing good swinging music, which could be those loved favourite jazz and blues tunes from New Orleans or from Chicago or New York. They could add some British 'Trad' or the brilliance of Duke Ellington and Count Basie. And…of course they feature tunes played by Louis Armstrong, Kid Ory, Kenny Ball, Chris Barber, Sidney Bechet and our wonderful Mr. Acker Bilk.
The line up includes a guest appearance from Paul Sawtell, (promoted on You Tube as one of the country's best pianists) on piano
Tickets can be purchased from ticket source HERE  or from Tarvin Post Office now.
Jeff plays a tune written by Sidney Bechet. But it was the Monty Sunshine version recorded when he was with the Chris Barber band which hit the 'pop charts'. "This is my version. I hope it does credit to the composer and great musicians who have played this over the years."