Old Herbaceous – a charming love story, humorous and touching.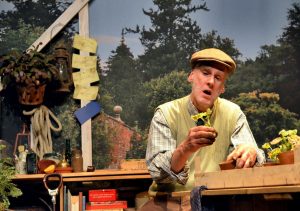 After a significant break we are very pleased to announce our 1st show of the new season at Tarvin Community Centre on Friday 17th September 2021 – 19:30.
Old Herbaceous is a charming love story – a humorous and touching portrayal of a single-minded yet gentle man with a passion for plants. A one man show by Peter Maqueen Old Herbaceous has been described by The Guardian as "Downton Abbey with gardening tips!"
Pottering amongst the seeds and cuttings at the back of his ramshackle greenhouse in the garden of a Gloucestershire manor house is Herbert Pinnegar. Now in his twilight years, he's full of memories and tales of a bygone era. In between potting up and potting on, he recounts his journey from orphan boy to legendary head gardener 'Old Herbaceous' and tells of his friendship with the lady of the house, Mrs Charteris.
Tickets are now on sale at £10 and £7 for under 16s via the link below or from Tarvin Post Office: