Time to Celebrate our return to 'normality' with the Bluebird Belles – the best thing since the Andrews Sisters – and more!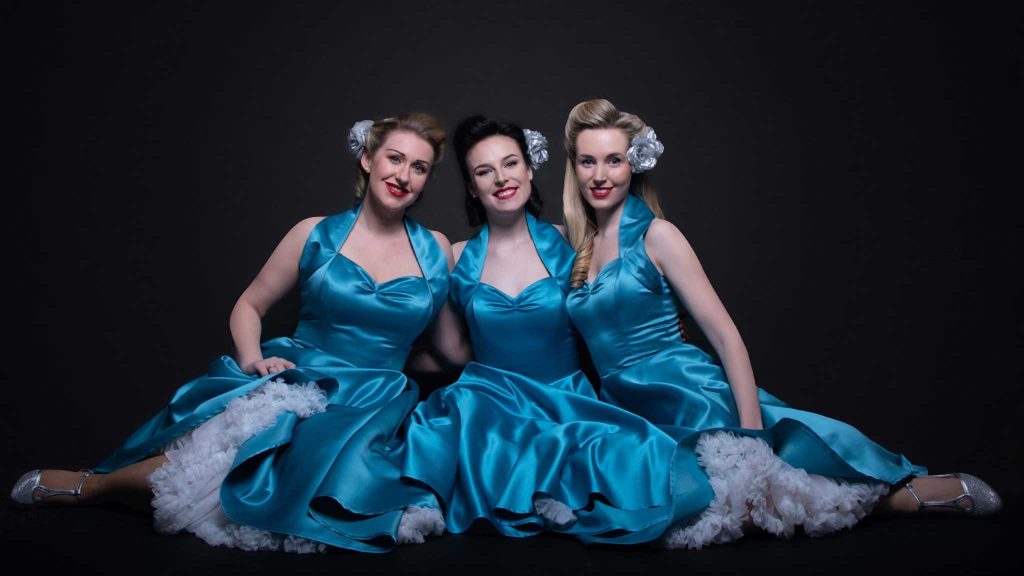 Friday 29th October 19:30 – A village celebration   £12.50    £7.50 for under 16s
Tickets on sale NOW from Tarvin Post Office and online here from TICKET SOURCE

Originally booked for VE Day pre-lockdown, we are delighted to finally welcome the Bluebird Belles and can't wait for their programme of 1940s/50s/60s music in retro style. Dubbed 'the best thing since The Andrews Sisters', and always dressed to impress, the Belles are known for their authentic Second World War WAAF uniforms, as well as their huge collection of beautiful vintage dresses.
Covid is probably here to stay but with many of us being fully vaccinated and the community centre gradually being able to offer many more activities, in as safe an environment as possible, we thought you would enjoy some light-hearted, professional musical entertainment to appeal to all ages. these ladies are versatile with wonderful voices. Not sure if you will like them? Here are  video samples. I defy your feet not to tap!
Wearing of masks advisory but not compulsory. First Strictly saved the day, now it's the Bluebird Belle
1940s
https://youtu.be/r2T4tVkP-mM
SEA SHANTY – THIS TUNE BECAME VERY POPULAR DURING  THE SHUTDOWNS ON TIK TOK.   (A favourite of mine)
FOR QUEEN FANS
Just a few of their reviews:
"I just wanted to take the opportunity to thank you for coming into our store and entertaining our customers during our My JL event.
You were all fantastic, the best group we have ever had in store, our customers loved it and we hope to be able to work with you again in the future."

Rachel
Christmas shopping event, John Lewis (Leicester)
"Girls! What can we say?
Thank you, thank you, thank you for providing such superb entertainment at my Dad's surprise 1940's themed party last night! Added to the fact that you sang beautifully and look amazing, you were an absolute pleasure to deal with.
We will be recommending you to everyone and will certainly be in touch again."
Emma
70th Birthday Party, Tenbury Wells
"I just wanted to say a HUGE thank you for yesterday. You guys were incredible and we loved your cover of 'Love Cats'. You were the talk of the evening, and everyone absolutely loved you and thought you were fantastic.Thank you again for agreeing to do it!"
Claire & Gareth
Wedding, Suffolk
"What a fabulous night you gave the Heron Club members and guests on Saturday evening. I have not stopped taking calls from those present telling me how much they enjoyed your performances.
Your harmonies were of a very high standard, each of your voices had clarity and are outstanding. There is a very overused quote, "a night to remember", well Saturday was a "NIGHT WE WILL NOT FORGET".
Outstanding entertainment from 3 excellent ladies, who I am sure are destined for bigger and brighter things. Thank you all for a truly FABULOUS evening."
Adrian
The Heron Club, Stourbridge